National Exhibition of the Republic of Belarus in Azerbaijan (5-7 May 2010, Baku)
June 14, 2010
In accordance with the Plan of the national exhibitions (explosions) of the Republic of Belarus abroad for 2010 approved by the Regulation of the Council of Ministers of the Republic of Belarus of 4 February 2010 N 51 a National Exhibition of Belarus was held on 5-7 May 2010 in the Sports & Exhibition Center named after G. Aliyev in Baku.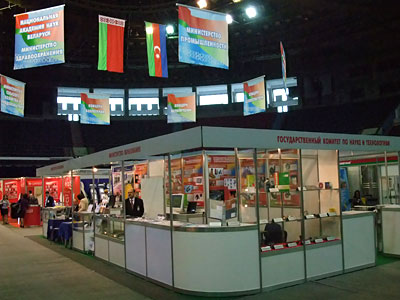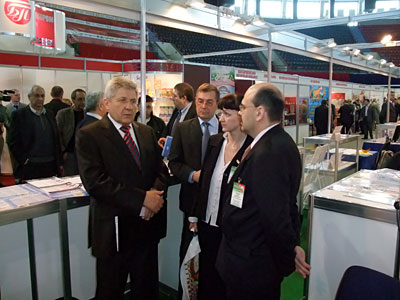 The State Committee for Science and Technology of Belarus together with Belarusian Institute of System Analysis and Information Support of Scientific and Technical Sphere has organized a collective section of S&T developments at this Exhibition. At the SCS&T's collective section with a total area of 72 sq.m over 140 exhibits have been exposed within the agreed areas of bi-lateral S&T cooperation. 12 organizations of the Ministry of Education, 5 — National Academy of Sciences and one organization from the Ministry of Health took part in the section.
The exposition of the Ministry of Education was composed by the 2 parts — the stand of Belarusian State University and the joint stand of technical universities.
The BSU stand included the following exhibits:
Education services for Azerbaijan citizens in BSU;
S&T products for medical purposes (devices, medicines, etc);
Production technologies in small-scale chemistry for agriculture and processing industry;
Technologies for coating of different materials by metals;
Automated systems, devices and substances for environment, water cleaning and oil sorption; etc.
The main areas of the joint stand of technical universities:
program complexes for industrial, educational and scientific purposes;
technologies, equipment and materials for chemical industry, oil processing, machinery building and castling;
ceramics and heat resistant materials;
new production technologies for construction, transport and industry;
technologies, instruments, materials and devices for medicine;
fabrics with specific and improved characteristics and technologies of their production.
The National Academy of Sciences of Belarus was represented by 5 organizations — Institute of Physics, Institute of Heat and Mass Transfer, Scientific & Production Amalgamation "Tsentr", United Institute of Informatics Problems and Scientific & Practical Center on Materials.
The NAS stand was composed by:
the last developments and devices in laser and optics, as well as technologies for medicine, ecology, industrial technologies, nanophysics and nanotechnologies, micro— and optoelectronics;
developments in new materials and technologies for machinery building, micro electronics and radio technique;
centrifugal techniques;
modern technologies of creation of new magnetic materials and super hard composites based on borum nitride and artificial diamonds;
super computer technologies for modeling and designing of machines and technological processes;
information technologies for supporting the life cycle of tractors and other products of tractor industry; etc.
The members of the scientific delegation have hold negotiations with representatives of several ministries, enterprises and scientific organizations of Azerbaijan.
All the participants of the collective scientific exposition have been awarded with awards of the National Exhibition.
Source: BelISA.