Belarus National Exhibition "Belarus-2008" (October 7-10, 2008, Kiev)
November 04, 2008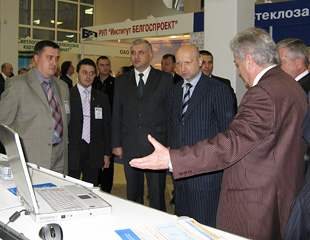 On 7-10 October 2008 Belarus National Exhibition "Belarus-2008" was held in Kiev (Ukraine) in the exhibition hall of the Ukrainian Chamber of Commerce and Industry. Over 100 Belarusian organizations and companies have taken part in it. The main goal of the Exhibition was to progress on the Ukrainian market and search for partners in scientific and innovation spheres.
From Belarusian side the opening ceremony was headed by the First Deputy Prime-Minister V.Semashko and Ambassador of Belarus in Ukraine V.Velichko, from the Ukrainian one – by the First Vice Prime-Minister A.Turchinov, representatives of the branch ministries and departments, heads of Ukrainian Chamber of Commerce and Industry, diplomats and businessmen.
According to the Plan of national exhibitions (expositions) of the Republic of Belarus abroad for 2008 a section of S&T development was organized at "Belarus-2008" by the State Committee for Science and Technologies and Belarusian Institute of System Analysis and Information Support of S&T Sphere. More than 120 developments of the organizations of the Ministry of Education, National Academy of Sciences and the State Committee on Standardization have been exposed on the collective stand of SCS&T.
The exposition of the Ministry of Education united developments of 13 universities including a separate stand of Belarusian State University.
The BSU exposition has touched upon the following areas:
mining industry, metallurgy;
petrochemical equipment;
wood and wood processing industry;
agriculture;
complex protection of plants;
computer-guided means of measurements;
equipment for manufacture of products made of polyurethane.
ecology;
chemistry;
technologies of water purification;
food additives for baking and meat industries, etc.
At the exposition of the Ministry of Education the following developments caused the highest interest of the visitors:
technology and equipment of electrolytic-plasma processing of metal products (Technopark "Metolit" of BNTU);
laser technological complex (Gomel State University named after F.Skoryna);
new food technologies (Mogilev State University of Foodstuffs);
gas-plasma sputtering (Technopark "Metolit" of BNTU), etc.
By the results of the Exhibition organizations of the Ministry of Education signed three protocols on intentions.
The four organizations of the National Academy of Sciences of Belarus mentioned below have organized the united exposition which was focused basically on the needs of metallurgical and construction industries of Ukraine:
Institute of technology of metals,
Institute of powder metallurgy,
State research-and-production association "Tsentr",
Institute of Heat and Mass Transfer.
The State Committee on Standardization of Belarus was represented by subordinated Institute of Metrology which exposed its developments in measurement of substances and radiometry.