September 17 – National Unity Day
15.09.2023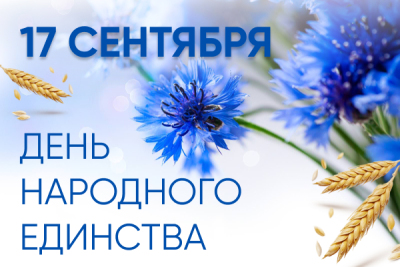 National Unity Day is the "youngest" state holiday in Belarus. It was established by Decree of the President of the Republic of Belarus dated June 7, 2021 No. 206 as a symbol of the historical formation of the Belarusian nation.
On September 17, 1939, the Polish campaign of the Red Army began, which resulted in the inclusion of the lands of Western Belarus into the BSSR. In modern Belarus, this day is revered as an act of historical justice towards the Belarusian people, divided against their will in 1921 under the terms of the Riga Peace Treaty. The unity restored in 1939 allowed Belarus to survive the Great Patriotic War, take an honorable place in the international community, and become one of the co-founders of the United Nations.
The Belarusian people are united in choosing a strategic course for the development of a strong, sovereign and prosperous country. The establishment of National Unity Day on September 17 emphasizes the continuity of generations, the inviolability and self-sufficiency of the Belarusian nation and statehood.
This year, from September 7 to 16, the republican action "Symbol of Unity — 2023" is taking place.
The start of the "Symbol of Unity — 2023" campaign was given at the highest point of Belarus – Mount Dzerzhinskaya in the Minsk region on September 7. Day after day, the participants of the action visited various regions of the country: September 8 — Mogilev, September 9 — Grodno, September 11 — Vitebsk, September 12 — the agricultural town of Lenin in the Zhitkovichi district of the Gomel region, September 15 — Baranovichi in the Brest region. The event in Minsk will end with the opening of Unity Alley.
The main goal of the action is the consolidation of civil society in a single idea of ​​peace and creation under the symbols of the regions, as well as promoting the expression of the identity of each individual region of the country in a single integral identity of the whole of Belarus.